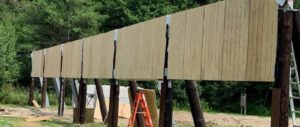 Range Open Sat and Sunday; Closed Monday through Friday (Aug 30 to Sept 3)
The gun range will be open this weekend. The pistol area is still undergoing repairs so the steel plate racks and some target stands cannot be used at this time. The range will then be closed again starting Monday, Aug. 30th through Friday, Sept. 3rd to complete the barrier and pistol range work. The range may be closed in the 2-3 weeks following, intermittently to complete the timber work and pistol bunker.
The Club will send an email update announcing exactly when the range will resume normal operations.
Sept Events
Club Meeting Wed. Sept 1st at 8 PM
Face coverings are optional
Trap
Sundays at 10:30 am
Wednesdays Cancelled during Range Repairs
Long Range Times
Sept 4: 1st Sat, 9am-1pm
Sept 8: 2nd Wed, 12-3pm
Sept 18: 3rd Sat, 9am-1pm
Sept 22: 4th Wed, 12-3pm
Lower range closed during long range shooting.
No shooting before 9 am (Mon to Sat); 10 am start on Sun; CEASEFIRE 30 MINUTES BEFORE SUNSET–times are posted near the sign in sheet.
Annual Club Election: Wed., October 6th at 8 pm
At our September general meeting we will be asking for nominations for the annual election to be held the first Wed. in October (10/6) at 8 pm. Members may nominate themselves and all nominees for each position should confirm their intention to run for a position to the Secretary at least two weeks prior to the annual meeting (reply to this email or email info@westwoodgunclub.com). Members not confirming their intention to run in advance can still announce as "nominations from the floor" at the October Annual Meeting. Regular and life members in good standing with at least one full year of membership beyond the probationary period are eligible. All terms begin serving on January 1, 2022, and elected officers and directors are expected to attend the Board and General Meetings typically held in person on the first Wed. of the month starting at 7 pm. Voting on October 6th must be made in person–there is NO mail-in or absentee ballot provision. Currently there are seven positions for which members can nominate themselves:
Five Officers positions (1-year term):
President
Vice President
Secretary
Treasurer
Governor
Two Director positions (3-year term):
Director (2022 – 2024)
Director (2022 – 2024)
For more information read the Club Bylaws available on the web site in the Meeting Notes page.